Croyde is a relatively small village, although it has grown in recent years. There are some fantastic places to eat, drink and relax in Croyde and the surrounding area, here are just a few for you to sample:
Blue Groove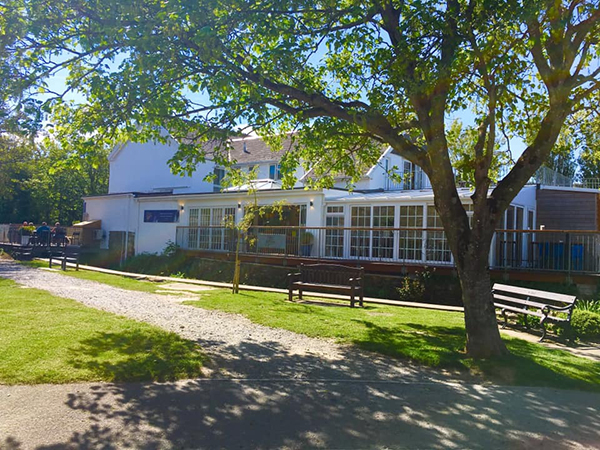 Set in the heart of Croyde and recently refurbished, Blue groove is the place to hang out. The food is fantastic, legendary breakfasts that set you up for the day including the classic Big Pig breakfast and the classic Eggs Benedict. A lunch menu to please all from burgers to vegan salads. The evening menu is full of flavour, Indian, Thai and Caribbean curries, classic seafood, Indonesian Tempeh and some big burgers.
Blue Groove is literally yards from Redwood Apartment, set by the stream and a great place to people watch.
Billy Budds
Just a few yards further in the other direction is Billy Budds, named after the local carpenter of many years ago. Now a thriving pub and restaurant that is popular with two beer gardens and a small children's play area.
The Thatch
The legendary Thatch is one of Croyde's focal points, a quaint and traditional North Devon thatched pub that is full of character. A popular restaurant and bar, always bustling during the summer months with a small beer garden. The pub shares a second beer garden with Billy Budds, a great location for an evening pint.
Hobbs Bistro
In amongst the bustle is Hobbs Bistro, when you step inside it all becomes peaceful. A small and intimate restaurant that serves quality food in stylish surroundings, romantic and cosy.
Further Afield
Squires and SQ in Braunton
In the heart of Braunton, owned by the Squires family you have the award winning fish shop and restaurant serving the legendary Squires fish and chips. Be warned, it is very popular in the summer months and there will be queues, the food quality is exceptional. Over the road is SQ, owned by the same family, a classy restaurant and bar that offers a selection of food at great prices.
The Williams Arms in Wrafton near Braunton
Legendary carvery that is adored by locals and holidaymakers alike. Plenty of parking and great value for money, if you like a carvery, the Williams Arms is a must try pub. Also the most viewed pub on the internet, the first picture on the Wikipedia page for 'pub' is the Williams Arms!
The Ebbrington Arms in Knowle near Braunton
Combining traditional English food and Thai cuisine, the Ebbrington Arms is a little gem off the tourist map. A real locals pub with a great atmosphere, south facing beer garden and welcomes dogs and children.
The Rock Inn and the Kings Arms at Georgeham
Two great pubs and both serve quality food in traditional Devon pubs. Just a short drive from Croyde, park in the village car park. A beautiful village with a stunning church and these two pubs are well worth a visit.